News
canow Corporation appoints Guido Bühler, Co-Founder of SEBA Bank as its board member
15-12-2022
~Strengthening the structure for global business development~
canow announces the appointment of Guido Bühler as board member to strengthen its structure towards global business development.
BRIDGE, a data management tool that utilizes blockchain, collectively manages the visualization of information owned by individuals and companies, the usability of consents and intentions regarding data access, and the design of payments and incentives when utilizing such data.  BRIDGE realizes the concept of "data bank" originating in Japan, and by providing everything from the infrastructure layer to the service layer, we will reduce the risk and cost of personal data management and transform the data of each business entity into an asset.
■ About the Appointment
canow develops and provides an infrastructure and platform that enables users to proactively manage the distribution of data and give back compensation against data to users a.k.a. the providers. In order to accelerate the establishment of a business model and global standards for the regulation of the "Autonomous Decentralized Data Bank"'s core, Mr. Guido, who has expertise in both the financial and blockchain industries, will join canow as a board member.
Mr. Guido is also a board member of the Swiss Blockchain Federation and, thanks to his experience in the financial industry, founded and served as CEO of SEBA Bank AG, the world's first Token and Fiat company. He will assume his new position on October 1, 2022 and will be responsible for the scheme strategy, international financing and establishment of a data bank for international expansion.
Guido Bühler / Profile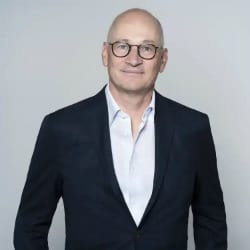 Comments
Personal Identity Management is key for the realization of WEB3 business models. "DID – Decentralized Identity Management" allows full autonomy of the personal user data whilst allowing monetization of selected data on behalf of users and service providers, without compromising data security and protection standards. 

I am honored to contribute to the mission of canow Co.,Ltd in this important field. The team of canow Co.,Ltd has a holistic approach and solid technology to implement DID, enabling many users and businesses in the field of Health, Wealth and Sport in the first instance.  I am excited to help Kunihiro Katsuragi to execute his great vision.
Profile
Owner, GILOCA AG / Board Member, Swiss Blockchain Federation
Co-founder of SEBA Bank AG, the first global "New Generation Financial Institution" based on blockchain technology, SEBA bank obtained its banking and securities license about 18 months after its foundation and established itself as an institution bridging the gap between crypto assets and the traditional banking industry. During his tenure as CEO, he has personally raised three rounds of funding and successfully raised approximately 111million CHF in Series C funding. He is currently the owner of GILOCA AG, an investment advisory firm that invests directly in fintech, real estate, early stage companies, and the arts.
Previous Positions
Co-founder / CEO of SEBA Bank AG
Chairman and founding partner of B&B Analytics AG
B&B Wealth Solutions AG / CEO and founding partner
Hérens Partners AG / CEO
UBS Investment Bank in London / Director
European Central Bank (ECB)/Chairman
European Central Bank (Frankfurt) "Operations Manager Group" / Chairman European Central Bank (Frankfurt) "Operations Managers Group" / Chairman
DTCC / DerivServ / Non-Executive Director
Member of New York / DTCC Compliance & Operational Risk CommitteeBackground
Career
Graduated from the School of Business Administration & Economics in Zurich, Switzerland.
Executive Leadership Education at Harvard Business School (Boston, USA), INSEAD (Fontainebleau, France) and University of St. Gallen (Switzerland)
canow Co-Founder / CEO Kunihiro Katsuragi / Comments
I have been building my relationship with Mr. Guido since before the creation of SEBA Bank. He established and developed the latter as a next-generation bank in Switzerland, a country with top-class standards on the world stage, in order to integrate crypto with traditional finance at a time when the world did not see the potential for tokens as much as it does now. I was fascinated by his foresight, management skills and ability to bring his vision to life. After about four years, I am looking forward to working with such people to bring my own into existence / into the world. Of course, we will continue to promote our business in Japan, but from now on, we will also actively look to other countries and regions that will welcome our innovation.

With Mr. Guido's participation, we will accelerate the establishment of the "autonomous decentralized data bank" business model that we are aiming for, as well as the establishment of global standards for regulations. We will also strengthen our appeal to domestic and overseas partners and investors.
About canow
We are implementing the global standard of DID/SSID by providing the world's only block chain "canow chain" centered on data management using DID. While performing distributed processing of IDs and data, we provide an environment where businesses that provide services that comply with regulations related to personal data in each country can easily develop and build a secure scalable infrastructure.